1921 | Youth and Family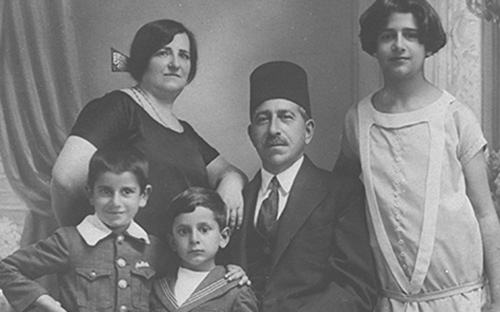 Yitzhak Navon was the twelfth generation of his family to be born in Jerusalem. His father's family, which arrived to Israel by way of Turkey as exiles of the Alhambra Decree, lived in the city continuously since 1670.
Navon's mother was born in Morocco, a daughter of the Ben-Atar family of rabbis. She immigrated to Israel in 1884. His parents, Miriam and Joseph, lived in Beit Musayof, where they had nine children, five of whom died in infancy.
Navon was born on April 9, 1921, in Jerusalem. He attended the traditional Jewish study hall Doresh Zion and the Tahkemoni School. Navon completed his secondary education at the Hebrew University Secondary School, to which he later returned as a teacher. At the Hebrew University of Jerusalem, Navon studied Pedagogy, Hebrew Literature, Arabic, and Islam.
When he was three years old, his family – his parents, sisters Esther (who later married Eliyahu Kamar) and Mazal (who later married Moshe Linenberg), and his brother Victor Haim (who later married Tzippora Bitansky) – moved from Beit Musayof to the Ohel Moshe neighborhood. The siblings were close to one another and regarded one another with a great deal of respect.
1946 | Head of the Haganah's Arab Intelligence Unit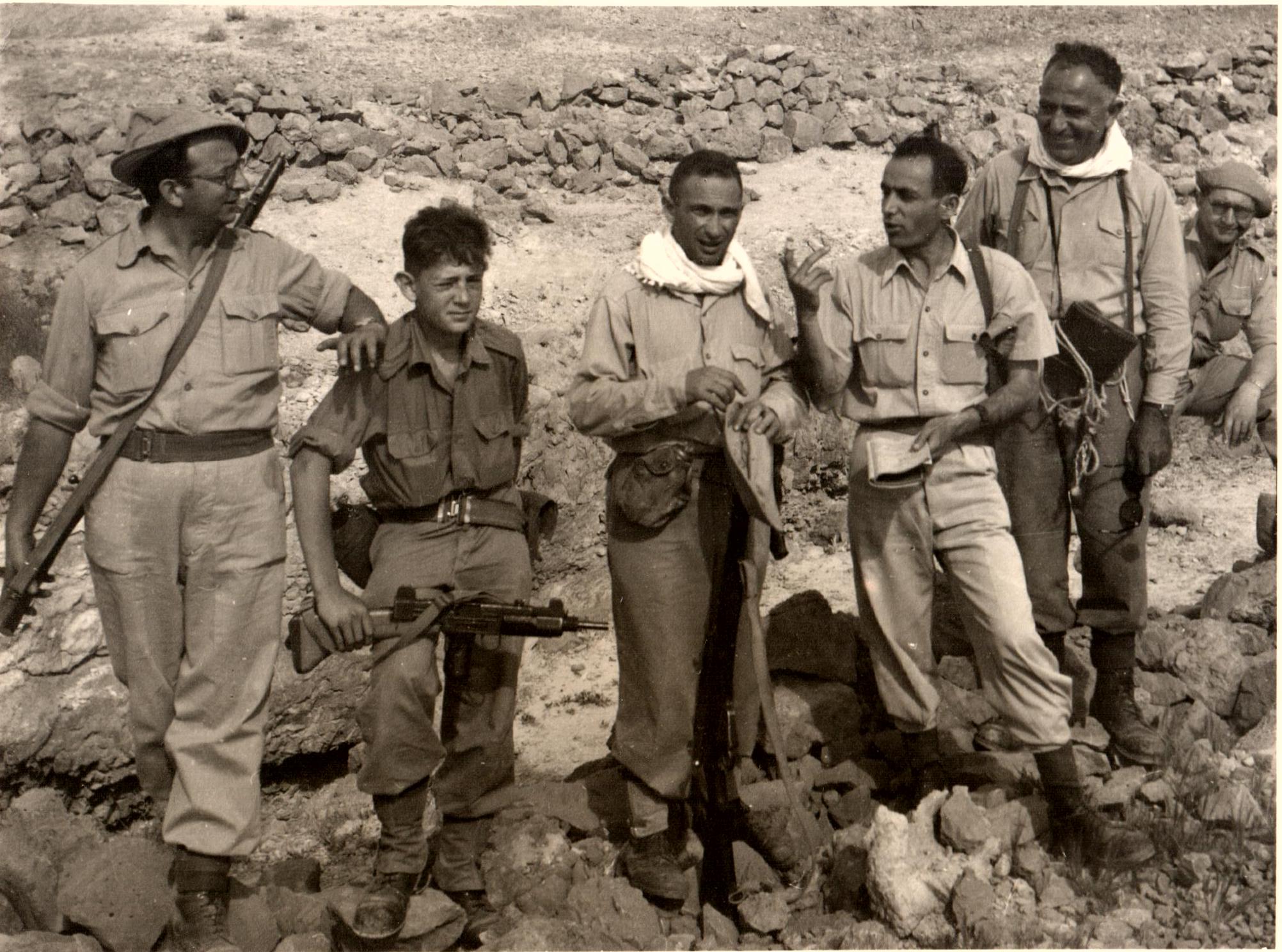 Navon joined the ranks of the Haganah defense force and eventually headed the organization's Arab Intelligence Unit in Jerusalem.
1949 | Diplomatic Service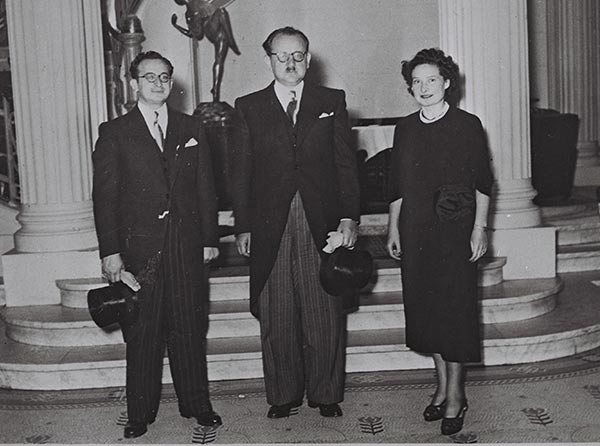 The Ministry of Foreign Affairs sent Navon on a diplomatic mission to Uruguay and Argentina.
1951 | Political Secretary to Moshe Sharet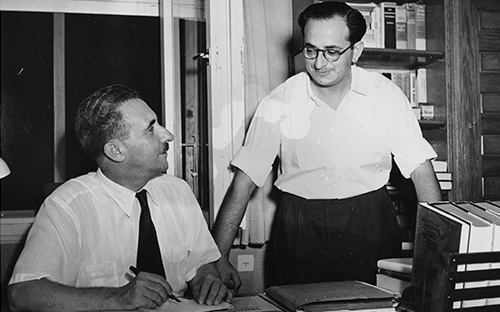 Upon his return to Israel, he was appointed political secretary to Minister of Foreign Affairs Moshe Sharet.
1952 | Political Secretary to David Ben-Gurion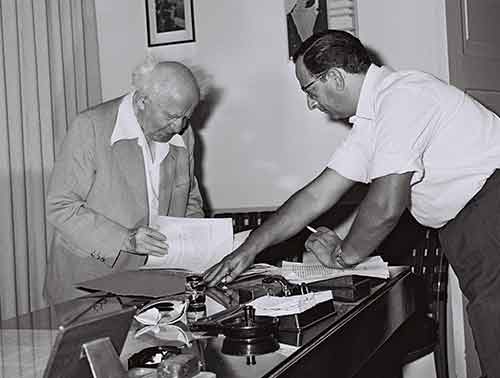 During his time as political secretary to Moshe Sharet, Prime Minister David Ben-Gurion summoned Navon to teach him Spanish. Shortly thereafter, Navon was transferred to the position of political secretary to the prime minister. With Sharet's blessing, Navon began his career as Ben-Gurion's right hand man. The close bond between Yitzhak Navon and Prime Minister Ben-Gurion stemmed from their shared thirst for knowledge and their great love of literature. Navon remained by Ben-Gurion's side for 11 years, until the latter's retirement from public service. During that time, Navon earned the prime minister's trust and was involved in decisions that shaped the country's future. In his book "To Each His Own", Navon assembled his personal essays about David Ben-Gurion.
1963 | Adult Literacy Campaign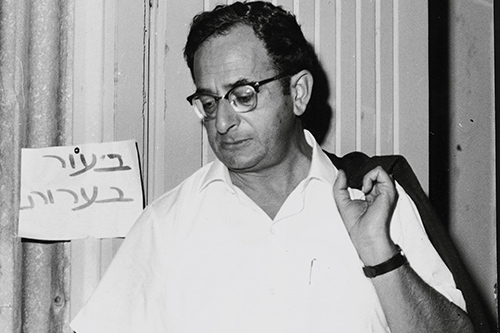 After Ben-Gurion resigned, Navon went on to head the Culture and Arts Department at the Ministry of Education. In his quest to minimize social inequalities, Navon launched a nationwide adult literacy campaign and founded a unit of soldier-teachers tasked with providing educational services to adults. The initiative was a success, allowing Israel's communities to express their unique individual cultures.
1963 | Marriage to Ofira Erez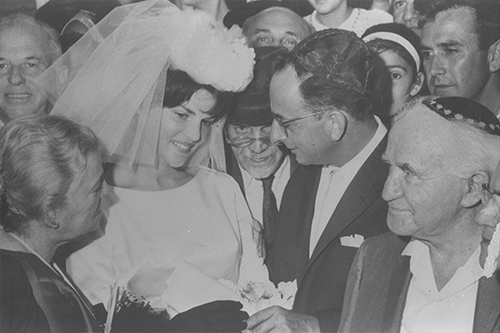 1965 | Member of Knesset and Chairman of the Zionist General Council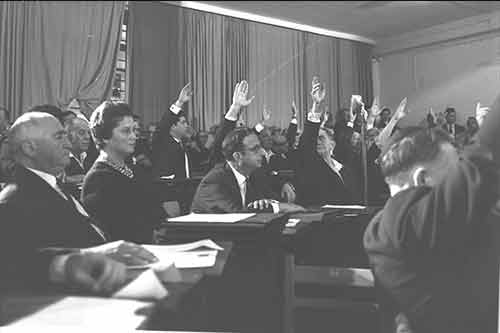 As a member of the Rafi political party, Navon was elected to the Knesset and maintained his seat until 1978. During that time, he served as Deputy Speaker of the Knesset and chaired the Foreign Affairs and Defense Committee.
Author and Playwright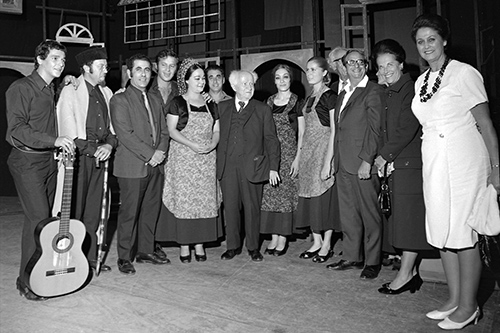 In addition to his many public and government roles, Navon was a gifted author and playwright. His works include the short stories "Six Days and Seven Gates", "The Scroll of the Elders in the Western Wall", and "Romancero Sefardi," as well as the play "Romancero Sfardi".
His most prominent work, the musical "Bustan Sefardi," was praised for its portrayal of Sephardic culture and the Ladino language.
1978 | President of Israel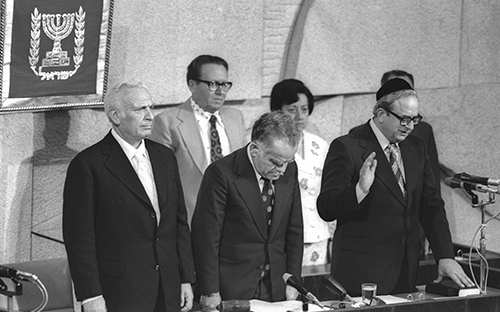 Navon was elected Israel's fifth president on April 19, 1978. As president, he sought to promote solidarity and encourage mutual responsibility among Israel's different ethnicities and religions. Navon was the first president to be the father of young children – Erez and Na'ama, four and five years old at the time – who lived with their father at the President's House.
1979 | President of Israel: Peace Agreement with Egypt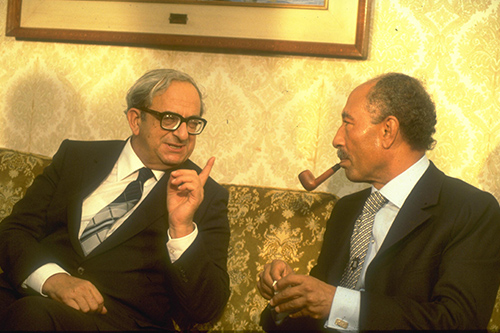 Navon makes a historic visit to Egypt
1982 | President of Israel: Commission of Inquiry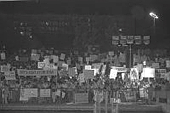 During the 1982 Lebanon War, Navon called for the establishment on an official commission of inquiry to look into the events that took place in the Lebanese villages Sabra and Shatila.
Mass protests in Tel Aviv following the Sabra and Shatila massacre in Lebanon, 1982
Photography: Micky Shovitz, Government Press Office
1984 | Minister of Culture and Education and Deputy Prime Minister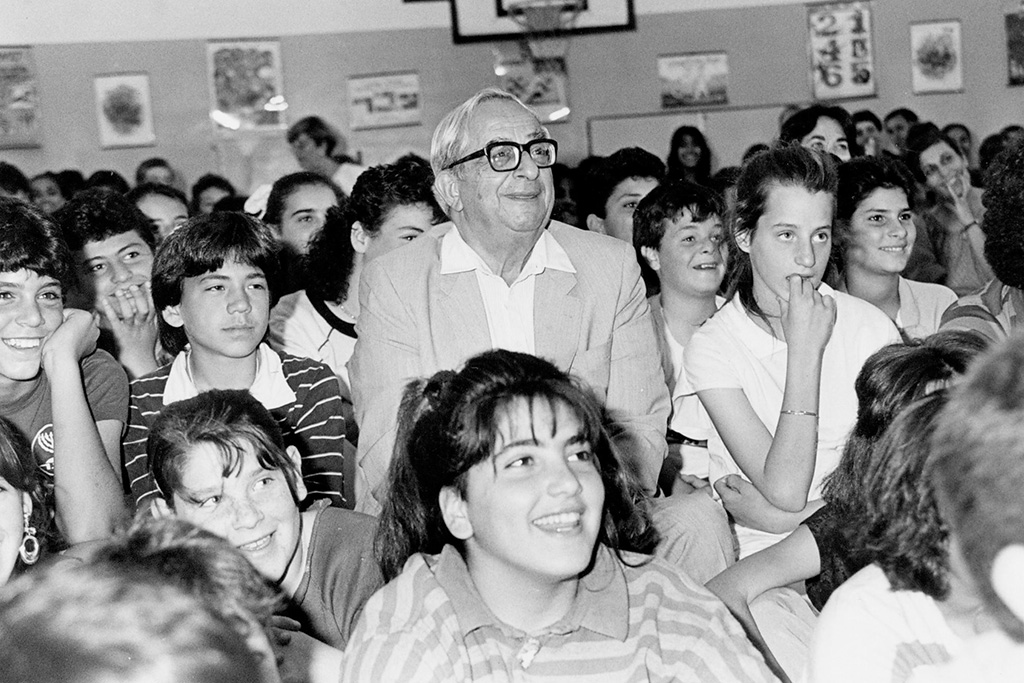 At the end of his presidential term, Navon was elected to the Knesset once again, this time as a member of the Labor Party. He became Minister of Culture and Education and embarked on a new yet familiar road. As Minister of Education, Navon aspired to instill the values of democracy, coexistence among Israel's population segments, and peace with the country's neighbors. Navon emphasized the importance of science and technology in education and augmented Arabic studies in public schools. He launched the National School Cultural Program, initiated the tradition of high school trips to the death camps in Poland, and helped found the Sam Spiegel Film and Television School in Jerusalem.
Minister of Culture and Education Yitzhak Navon and schoolchildren attend a play about racism in Jerusalem
Photography: Ronnie Na'aman
1990 | Public Positions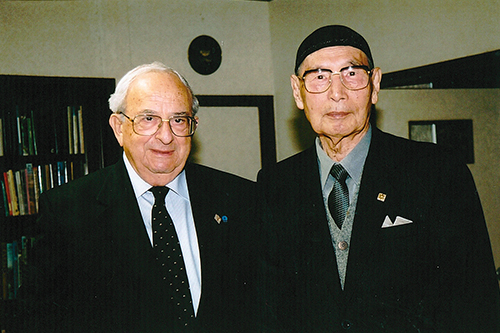 After his retirement from politics, Navon began working as a volunteer for a number of organizations that reflected his personal values and ideals. He served as Chairman of the Israeli National Authority for Ladino, the Jerusalem Academy of Music and Dance, and the Neot Kedumim Biblical Nature Reserve, as well as President of the Haganah Membership Organization, the Yad David Ben-Gurion Society, and the North African Jewish Heritage Center.
Navon also served as Chairman of the public committee to commemorate the 500th anniversary of the Alhambra Decree, the Friends Association of Beit Shalom Japan, head judge of the World Bible Quiz, and honorary chairman of the Abraham Fund, which promotes coexistence between Jews and Arabs in Israel.
1993 | Ofira Navon's Passing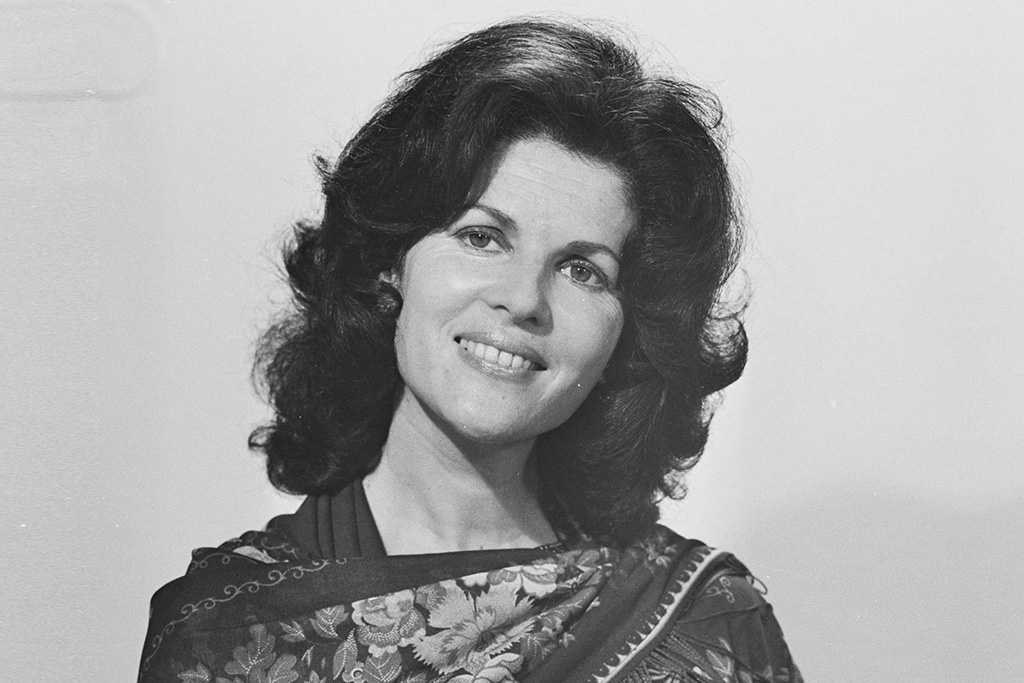 Ofira Navon passed away after a courageous battle with cancer.
1998 | Author and Playwright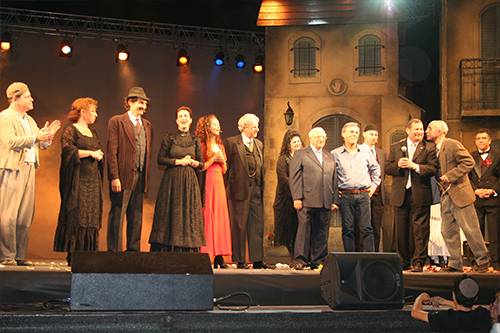 The popular play "Bustan Sefardi" was revived by Habima National Theater and is performed to this day in theaters in Israel and abroad.
2008 | Marriage to Miri Shafir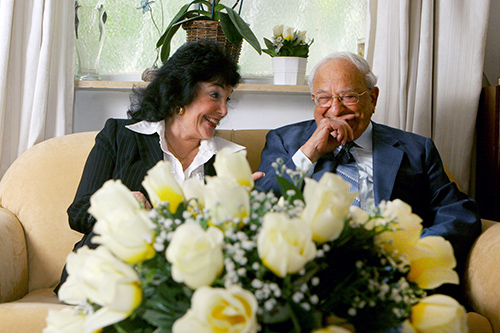 After a years-long partnership, Navon married Miri Shafir, an image and communications consultant, painter, and writer.
2015 | An Unfinished Story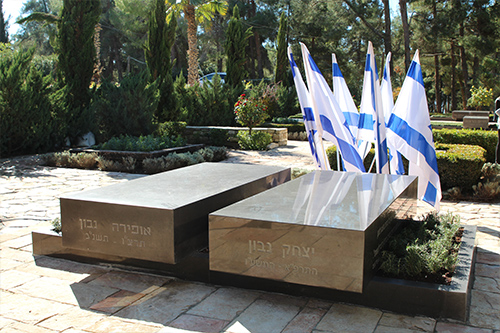 Navon passed away on November 6, 2015 and was buried at the Mount Herzl Memorial Park in Jerusalem.